Is your phone's screen protector tainted with scratches? Or cracks have appeared from the daily wear and tear of your phone? Well, whatever the reason may be, changing your screen protector regularly is always the better option. Many smartphone users prefer getting their screen protectors replaced by local repair shops because the process seems demanding. But we are here to tell you otherwise. In this article, we will list down several different ways How to Change Your Screen Protector yourself.
Removing the Screen Protector
Method 1: Use Your Fingers
Before starting off, you should first use a hairdryer to blow hot air on your phone's screen for approximately 15 seconds. This will help loosen the adhesive of the screen protector, and make the overall process much easier.
However, make sure that you keep your hair dryer on the lowest possible settings, and at a safe distance – around 10 cm away from the screen – so that your phone's hardware is not damaged.
An optimal amount of heat would have made the protector warm to feel, but not too hot to touch. Now, you should try peeling off the screen protector from one of the four edges. If it is taking considerable effort to peel, you should try the rest of the edges too.
In most cases, one of the edges will have weak adhesives, and the protector will start coming off. Still, you need to make sure that you do not rush through the process as that may end up breaking the protector.
Now that the protector is coming off, you may be tempted to peel it off completely in this manner. However, we will advise against that as it can cause the screen protector to fragment.
Instead, you should approach it carefully, and place your fingers underneath the protector to support it while you gently peel it off. Make sure that the glass is peeled in such a way that it comes off the screen evenly from both directions.
If it does not come off evenly, then you should use your fingers along the screen's edges to help the process, as an uneven removal can cause the protector to break.
Method 2: Use Toothpick and Your Credit Card
If you have short nails or believe your fingers cannot do the job properly, you can use simple accessories such as a toothpick and a credit card to remove the screen protector.
First, use the toothpick to lift up one edge of the protector. While using the toothpick, you need to take extra care in making sure you have the angles right.
If you use the toothpick pointing downwards, you can end up damaging your screen. So, make sure that the toothpick points away from the screen when you use it to lift up an edge.
After you have peeled off enough of the glass to be able to slide in one of your fingers underneath it, you will then use a credit card to complete the job.
Slide the card under the glass protector, and slowly move it along the length of your screen. This will separate the protector from your screen.
Still, as was the case with using your fingers, you need to remove the glass with care as even minor stress can cause it to fragment and break into tiny shards which will complicate the removal process.
Method 3: Use Duct Tape
As toothpicks can potentially damage your screen if they are not angled correctly, duct tape might just be your safest option.
For this method, you will again need to use a hairdryer first. This is beneficial because it weakens the adhesion between your screen and the glass protector, making your job much easier.
After heating up the glass, cut out a length of duct tape and wrap it around two of your fingers. Make sure that the sticky side is outwards, as you will need it to glue to your protector.
With the tape rolled on your fingers, place your fingers on one edge of the screen and ensure that the tape has stuck with the glass. Then, slowly lift the protector towards the other side of the screen.
If the tape had glued properly, the glass would eventually pave into the pulling force, and separate itself from the screen. However, you need to be patient while peeling off the screen, as brisk movement can lead to your protector cracking.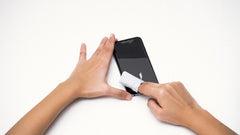 The Next Steps
Clean Your Screen
Now that you have successfully removed the glass protector, it might just be the perfect time for you to clean your screen.
Even though the glass protector protects your screen from scratches and the like, it can leave dust prints along its borders or trap dust particles beneath it. So, grab a piece of microfiber cloth, dampen it with a little bit of water, and wipe off all the dirt on your screen.
Alternatively, you can use cleaning wipes which will work just as well, if not better than a damp cloth.
Use a Quality Screen Protector
You might be of the opinion that all the screen protectors have the same build quality, and it would be unnecessary to spend some extra bucks on mere tempered glass. However, the science behind glass screen protectors has evolved, leading smartphone users to have a variety of qualities to choose from.
Currently, the screen protectors come in three different builds: Polyethylene Terephthalate (PET) which is cheap, light, and thin; Thermoplastic Polyurethane (PTU) which is durable and flexible; and tempered glass which is currently the most popular choice.
Still, the tempered glass comes in various qualities, which makes it important that you buy your screen protector from trusted brands. We have used protectors from different companies and will recommend you to choose from Syncwire, Rhinoshield, Omoton, or Unbreakcable.
Buy a Phone Case
A screen protector can only go as far as protecting your screen from scratches. Many of us often drop our phones unwittingly, and the screen protector will then not be able to protect our phone. Thus, it makes sense for you to think long-term and invest in a protective case so that your phone remains safe!
Visit our blog for more informative material.